Combination Vertical Joint Sprayers
Industry demands for improved health, safety and quality standards this has led to a consequential increase in demand for machine-applied combination bond coating and vertical jointing functions. Our combination sprayers can carry out the bond coating as well as the application of a 50-pen polymer modified bitumen sprayed directly against the vertical face of surface courses and / or binder courses. It is also possible to over-band and spray the free-face to verge-side carriageways.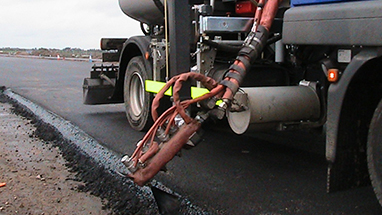 Bond Coating
Changes in surfacing specifications over the previous 10 years has led to an increase in the demand for machine applied bond coats. Using polymer modified bitumen emulsions at binder course and surface course levels, specifiers have improved the bonding and tensile strengths leading to improved durability, performance and longevity.
We offer a range of emulsion tanker sprayers from 800 litres for footways and up to 7000 litres with spray bars which extend to 4.8 metres. All plant is calibrated in accordance with BS1707 and we regularly carry out carpet tile testing to ensure that specified spread rates are achieved.
Combination sprayer
Lorry-mounted dual purpose bond coat sprayer and vertical joint painter. Ranging from 10 tonne to 18 tonne vehicles. All come with onboard computers to ensure accurate application rates. All with Chapter 8 markings and fully-trained operators.
Skid Steer Planer
We also offer a skid steer planer / sweeper suitable for planning footpaths, patches, tie-in's etc. and comes on a roll on roll off lorry to take the material away from site if required.